The Gondola Squawble Continues
|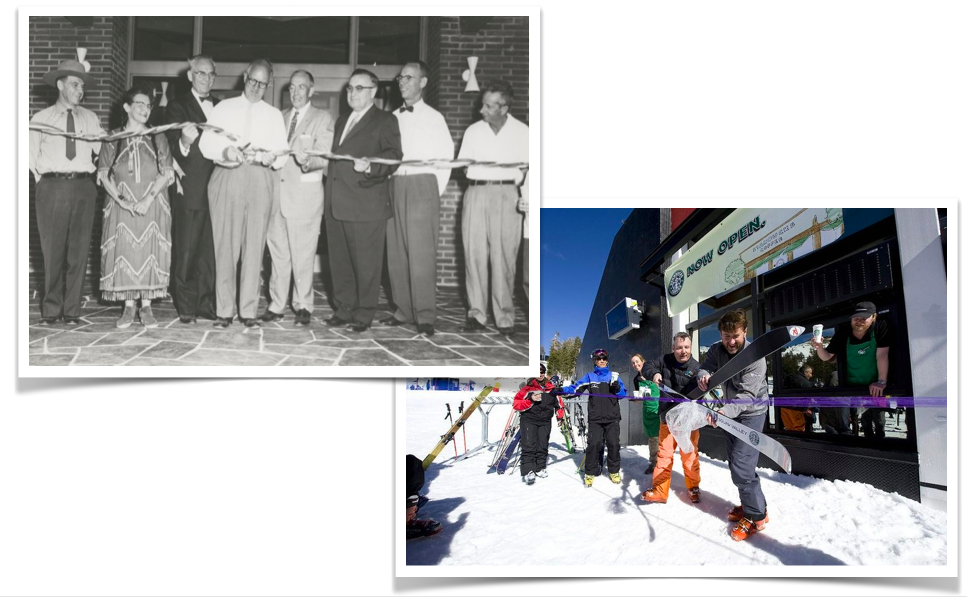 Another round of salvos was fired this week regarding the proposed gondola connection between Squaw Valley and Alpine Meadows. As we have already reported, the issue has caused quite a rift between those that think it's the greatest idea ever, and those that believe it is not. Although there has been a lot of discussion over many issues regarding the proposal, much of the controversy has centered on the routing of the gondola through the Granite Chief Wilderness area. We reported on Sierra Watch's concerns about the gondola route earlier this month.
Squaw Valley Ski Holdings CEO Andy Wirth came out swinging this week. In an email sent to SquAlpine employees, Wirth harshly attacked Sierra Watch's Executive Director Tom Mooers. The email offered little in the way of actual facts that refute Sierra Watch's concerns about the route. Here's what it said:
BASE TO BASE GONDOLA UPDATE

Granite Chief Wilderness Area

Members of the Squaw Valley | Alpine Meadows Team:

Good morning-  I trust you are all well.

As it related to our recent announcement of initiating the planning process associated with the Alpine Meadows| Squaw Valley base to base gondola, Tom Mooers at Sierra Watch recently issued a press statement specifically alleging that our contemplated plans included going through the Granite Chief Wilderness Area, as designated by the California Wilderness Act of 1984.  Tom's assertions and in the press, aspersions, are materially and factually incorrect.  Had Tom called or done any level of thorough diligence, we could have saved him the public embarrassment associated with his organization's completely invalid claims.

As we all seek to work with facts and not hyperbole or the propagation of headline seeking myths, I've attached a detailed white paper on this matter.  I hope you will please take a moment to review this document.  It's an important if not critical summary of the facts and truths around Mr. Caldwell's land ownership as it relates to this proposal and provides for an objective, chronological overview of what's relevant on this topic (inclusive of citations).

Personally, it may be relevant for you to know that my grandfather Conrad (http://en.wikipedia.org/wiki/Conrad_L._Wirth) actually participated in the drafting of the original enabling federal legislation, The Wilderness Act of 1963; moreover, I was a wilderness ranger in the San Pedro Parks Wilderness Area in the Santa Fe National Forest.  It's with that background, coupled with a deep sense of conviction and obligation that I let you know that I would never, never contemplate pushing these contemplated plans through a wilderness area. I don't take Tom Mooers' inability to do research as an affront, however the aspersions he's casted in a few instances are not just embarrassing for him/his organization, more importantly, they are embarrassing to those of us who have been and remain true environmentalists as expressed through our work and actions.  Our position has been affirmed by the United States Forest Service and once contacted by  the USFS, the LA Times even redacted a map and certain elements of Mr. Mooers' inaccurate claims.

Again, please take a moment to review this document and let's get recalibrated on the process and what's important…but most importantly, what are facts and truth.

On behalf of a very grateful executive team, thank you for making the very most and best of the 2014-2015 season.  You are all truly world class and it remains an honor to work with you.  I look forward to seeing you on the trails around the Sierras, on the lake and around Alpine Meadows and Squaw Valley this summer; or on the mountain when we get into what I am certain will be a great 2015-2016 season.
Warm regards,

Andy
Unfortunately, there was no valid link to the "white paper" provided. The provided link lead to a random page on the SquAlpine website. Several employees reported their frustrations with the error this week. We can only assume that the "white paper" was what we presented last week.
It's certainly not an attractive side of Mr. Wirth that we are seeing in the email, but it is one that we have seen many times before. We sent a copy of the email, that we received from numerous employees, to Mr. Mooers for his comment. It turns out that Mooer's comments were professional and on point, especially for a guy that had just been trashed by the SVSH CEO. Here's what he said:
Mark –

I understand you've seen the email that Andy Wirth of KSL/Squaw broadcast to his employees earlier this week.

It's about their proposed gondola through Granite Chief Wilderness − but mostly it's a personal attack on me, calling me out by name five times and accusing me of being "materially and factually incorrect" to the point of "public embarrassment".

At its best, it's a diversionary tactic designed to draw attention from what's really going on in Squaw Valley: development proposals unlike anything we've seen in Tahoe Sierra. Nevertheless, I figure I should address and put to rest a couple issues raised in the email so we can, hopefully, turn away from the mudslinging and back to issues that really matter.

The email claims that Sierra Watch, due to an "inability to do research" was mistaken in pointing out that the proposed Squaw to Alpine gondola would go through land that is part of the Granite Chief Wilderness Area. The email is mistaken; we did our research.

When we learned of the proposed gondola route on April 13, we were surprised to see that the route cut right into land designated as wilderness.

In order to clarify the boundary, we visited the United States Forest Service (USFS), looked at their maps, and consulted with their Lands Manager.  We also reviewed the boundaries at wilderness.net, the public-private partnership charged with maintaining data on our national wilderness areas.  Maybe most important, the mapping experts we engaged to compare the gondola route with the wilderness boundary based their work on USFS datasets, available at:

http://data.fs.usda.gov/geodata/edw/datasets.php?dsetCategory=boundaries

The map, overlaying the proposed gondola onto USFS data, is clear:

In other words, we didn't make any of this up.  The wilderness boundary was enacted by Congress and signed into law by President Reagan.  It's clearly defined and maintained by the USFS.  The gondola route runs right through it.

Wirth's email also claims that he "…would never, never contemplate pushing these contemplated plans through a wilderness area."

This brings us to point #2:  KSL's own memo agrees that the gondola is proposed for wilderness.

The memo Wirth cites clearly states:

The portion of the Caldwell parcel over which the interconnect will operate is within the mapped boundary of the Granite Chief Wilderness Area, established under the Wilderness Act of 1964 (the original enabling legislation passed by Congress) and the California Wilderness Act of 1984, which designated certain lands within the state of California as federally designated Wilderness Areas." (Emphasis added.)

Basically, that's a lawyerly way of saying what, I think, Wirth is claiming is a incorrect: the gondola route is proposed to go through designated wilderness.

My guess is that the confusion stems from the fact the land in question is still privately owned and, therefore, does not fall under USFS jurisdiction and the strictest federal wilderness protections; we never said otherwise.

The issue we're raising is not one of jurisdiction, it's an issue of values.  We value wilderness, and we think that a federal designation of wilderness, as a statement of national commitment to a specific landscape, matters.

Note that I have tried repeatedly to reach out to Andy directly − but to no avail.

Please feel free to contact me directly about this or, looking ahead, the impending Draft Environmental Impact Review for the proposed Village development. We expect that document sometime in May; it should raise discussions about Squaw above personal attacks and focus our attention on what really matters: the future of our Squaw Valley and our Tahoe Sierra.

TM
We applaud Mr. Mooers and Sierra Watch for sticking to the facts and being clear about their concerns. We have always agreed with their assessment that the Caldwell property does indeed contain a portion of land that is designated as a part of the Granite Chief Wilderness. While the restrictions that would normally apply to wilderness lands do not apply on privately held property, it becomes a question of environmental values and ethics.
Wirth stands behind his grandfather Conrad Wirth's participation in the drafting of the 1964 Wilderness Act, and his time served as a wilderness ranger himself as evidence of his environmental values. A cursory bit of research done via the internet seems to indicate that Conrad Wirth did indeed have a large role in the development of Mission 66 for the National Park Service. The goal of Mission 66 was to provide for construction and development within the national park system to modernize them and make them more easily accessible to the masses. According to several articles, it seems as if the Wilderness Act of 1964 may have been written to protect the parks from the over-development proposed by Wirth's Mission 66.
Greeted at first with enthusiasm, Mission 66 was also criticized. Opponents complained that it emphasized construction as a one-dimensional solution to the complex social and environmental problems park managers were facing, and that it abandoned the Rustic style of park architecture and landscape design. The program soon led the NPS into bitter controversy as the postwar environmental movement began to take shape and exert its strength. Mission 66 hastened the advent of environmentalism by creating concern that the NPS was overdeveloping parks while failing to take other steps to preserve wilderness. Wirth stepped down as NPS director at the beginning of 1964, two years before his program was to have been completed. The creation of the Bureau of Outdoor Recreation in 1962 and the passage of the Wilderness Act of 1964 signaled the advent of what Secretary of the Interior Stewart L. Udall described as New Conservation.

Source:http://tclf.org/pioneer/conrad-wirth/biography-conrad-wirth
It's possible that Andy may not truthfully know his grandfather's exact role at the National Park Service. I know my grandfather worked for the American Beverage Corporation in the 1950's, but whether he invented Dr. Brown's soda or acted as a clerk depends on which relative is telling me the story.
The material question is whether or not Andy Wirth is truly concerned about protecting the unique qualities of the North Tahoe area. Whether or not he served as a wilderness ranger in a former lifetime is immaterial. His environmental record since his arrival at Squaw Valley Ski Holdings in 2010 speaks more clearly. During that time he has proposed:
• An expansion of the Village at Squaw Valley that would more than double the size of the village and continue construction for up to 25 years. It would be the single largest development the Sierra has seen in history.
• Proposed the construction of a mountain roller coaster near Red Dog.
• Proposed the construction of a 90,000 square foot indoor aquatic center, located just 8 miles from Lake Tahoe, which is one of the best aquatic centers in the world.
• Proposed the construction of buildings in the new village as high as 1o8 feet, blocking views of the mountains and natural lighting within the village.
• Proposed and supported a return of the winter Olympics to the Reno-Tahoe area, which would result in huge amounts of new development for short term profit.
The question remains, can we trust Andy Wirth, Squaw Valley Ski Holdings and KSL Capital with the future of Lake Tahoe and surrounding communities? While it may be nice to dream about the possibility of stepping onto a gondola to go between the two resorts, or to dream about the possible rise in property values it could bring – it's time that we step back and make sure we are protecting what we love. Whether we are locals, weekend warriors or infrequent visitors to the area, Lake Tahoe and it's surrounding grandeur is only there because of the generations of people that have stood up to protect and preserve it.
For further reading on the subject, an excellent guest editorial appeared in yesterday's Sierra Sun, penned by none other than Sierra Watch's Tom Mooers.