Are Local Non-Profit Groups Being Manipulated By Squaw Valley Ski Holdings?
|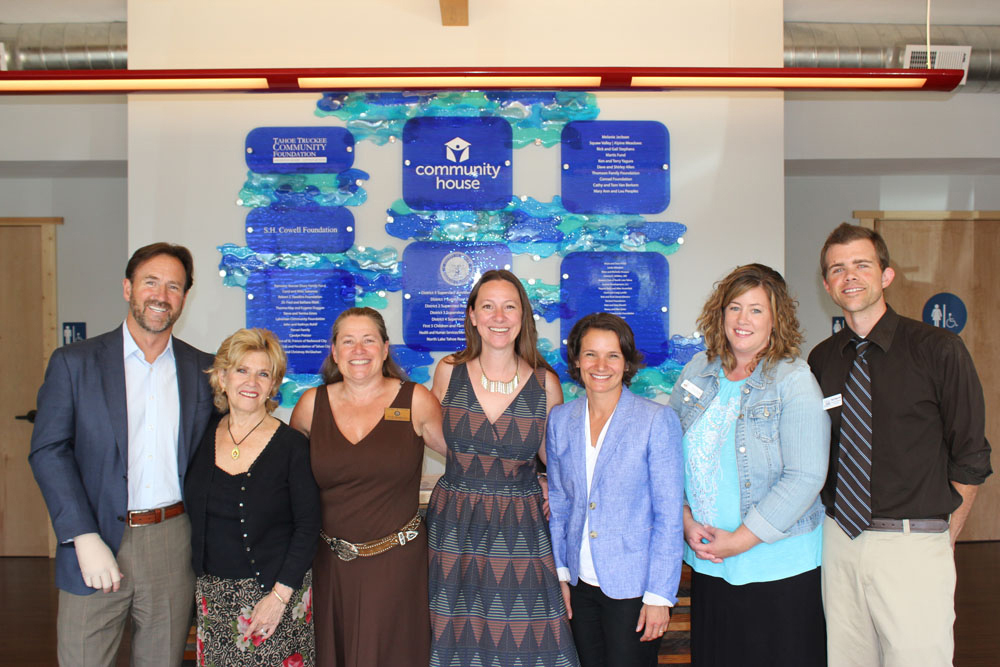 If you've spent time reading Unofficial Alpine or the Tahoe Daily Tribune, you know that there's some division in the community regarding the development at Squaw Valley, the incorporation of Olympic Valley and the mismanagement of Alpine Meadows by Squaw Valley Ski Holdings and KSL Capital. It's natural for such division to occur, as recently arrived corporate entities often do not share the same value systems as people who have been a part of a resort or a community for many years. It's quite common for corporations and their executives to become engaged with the local community, and in particular, offer support to non-profits to build good will within the community.
Most would agree that Andy Wirth, CEO of Squaw Valley Ski Holdings, has done a masterful job of developing a positive rapport with some key local non-profits. Most would still agree, that to a great extent, his desire to serve in the community is genuine. But when does the corporate influence on non-profit organizations cross the line? People are definitely starting to ask questions. Last week, an excellent guest column appeared in the Tahoe Daily Tribune, authored by Carnelian Bay resident Jaqui Grandfield. The piece, titled "What's The Goal Of The Tahoe Fund?", posed some excellent questions and makes some very solid points:
The Tahoe Fund is a perfect example of private "special interests" controlling the average Tahoe citizen's life and environment. Add this to the fact that the majority of our local governments are run by non-elected, appointed officials.

Where does this leave the less powerful public interest groups and the public in general? It leaves them virtually powerless in Tahoe's "cozy triangles."  – Jaqui Grandfield, Wildlife Biologist and Environmental Policy Expert, Carnelian Bay
Her piece also was also an interesting harbinger of what was going to happen next, which is a sad statement about how local non-profits are being manipulated. We believe that the line has clearly been crossed. We came across an email that was sent out to a number of non-profits in the area by the Executive Director of a well known local non-profit. The email asked those agencies to consider signing a letter of support for Squaw Valley Ski Holdings CEO Andy Wirth and Squaw Valley Ski Holdings in general. The letter does indeed sound like it is genuine, and to the credit of the author, very little pressure is applied.
 Good day to you, this is xxxx from xxxx, I am writing to you all about having your NPO sign on to this letter of support for Andy Wirth / KSL.  This is not an individual letter coming from one person but I am hoping to have it come from all our NPOs in the area.

We have all seen tremendous support from Andy since he took the reigns of Squaw Valley and with all the recent negative press towards Andy, I think it is best that our group of organizations should come together to show support for him.  Attached please find a letter, if you agree with the letter, please respond back to me and let me know by 11-10-14 that it is okay to have your organization listed as a supporter of this letter. The plan is to have the letter published in the local papers with all the "approved" organizations names at the bottom of the letter.

If you don't support the letter, no worries, but everyone on this list has benefited from Andy and his generosity. However, if you don't support, then just delete this email and letter.
While the email itself seems genuine, with little pressure applied, the attached document did not contain the same tone. It seemed to suggest that local non-profits may owe something to Mr. Wirth or Squaw Valley Ski Holdings. We wondered if the letter would form the basis of the next advertising campaign for Save Olympic Valley, or if it would just serve to counter the avalanche of negative publicity regarding the leadership of Squaw Valley over the last few months. Here's some snippets:
"In 2010, Andy Wirth moved to our community as the new CEO of Squaw Valley.  He reached out to the non-profit organizations to understand their roles and missions.  He only asked, "How can I help?"   Simple, powerful words that filled the non-profit community with a sense of relief and anticipation.  Finally, a leader emerged at Squaw who understands philanthropy and took time to understand the needs of our community."

•••

"Network connections are difficult to value in dollars; they're priceless.  For many local organizations, Andy has introduced us to philanthropists at major corporations, friends and networks across the country, increasing our visibility, raising awareness and developing new funding opportunities. Mother Teresa said, "I alone cannot change the world, but I can cast a stone across the waters to create many ripples."   A leader creates critical ripples.  Andy Wirth is a leader."

•••

"Since 2010, Andy's led Squaw Valley|Alpine Meadows in supporting philanthropy across the social, environmental, educational and animal welfare spectrum in this region and in some cases around the globe  – with SV|AM contributing over $650,000 in cash donations to 40+ local non-profits, and providing over $800,000 in in-kind donations.  Those gifts have helped our non-profits generate more funds supporting crucial programs and services."
Those are just a few selections from the document. The question then is, who actually wrote that letter? You don't have to be an English teacher to figure out that the author of the email and the author of the letter are not the same. Whoever wrote that letter is certainly a big fan of Mr. Wirth!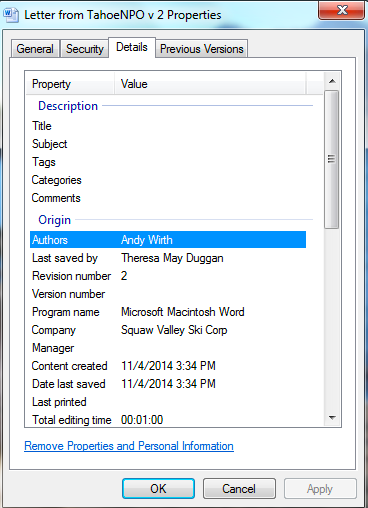 We wondered who wrote the letter in support of Andy. Since it was sent as a Word document, we were able to simply click on the Properties, then Details to determines its origin. Yes, it appears that Andy Wirth wrote his own letter of support. We also learned that the letter was then edited or reviewed by Theresa Duggan, who apparently spent 1 minute editing Mr. Wirth's writing. Duggan was hired by Squaw Valley Real Estate holdings as a Community Outreach Coordinator to head up the Save Olympic Valley campaign. Not only is this coercion unethical, but it could besmirch the non-profits who choose not to sign the letter.
We're really concerned about the leadership at Squaw Valley Ski Holdings, and we have been for quite some time. Just when we think things can't get any more bizarre, they do. This disingenuous attempted manipulation of local non-profits by the leaders of Squaw Valley is inexcusable. We hope that local non-profits are smart enough to not tarnish their hard earned reputations by signing Andy's letter. We hope local residents and visitors are not fooled by the actions of Squaw Valley and KSL Capital's leaders. It's time for a change.