Another Letter Questions Wirth's Motives
|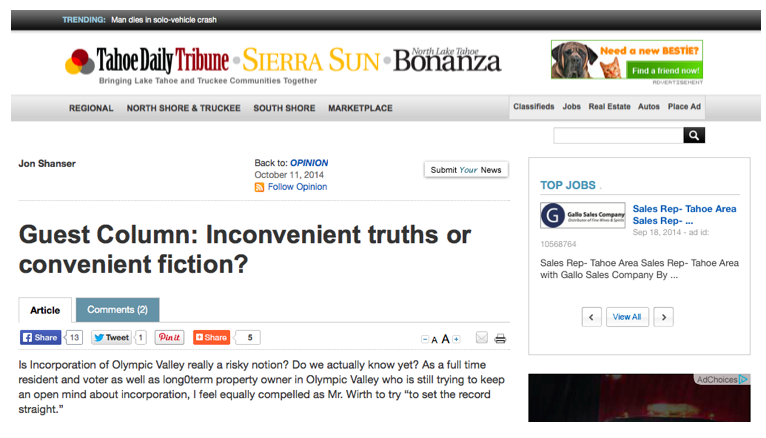 Last week, we wrote a critique of Andy Wirth's latest guest column in the Tahoe Daily Tribune, which attempted to gain support for the Save Olympic Valley movement. SOV hopes to save Olympic Valley by stopping the movement to incorporate that town of Olympic Valley. Anytime we take exception to Mr. Wirth's opinions, we get a lot of positive commentary from people who are concerned about the future of not only Olympic Valley, but also Squaw Valley, Alpine Meadows and the greater North Lake Tahoe region. But we also get hate mail and snide commentary from those that hope to benefit financially in  some way from the mega-village proposed by Wirth, Squaw Valley Ski Holdings and KSL Capital. It's lonely to be stuck in the middle here.
But every once in a while, one more local hero steps up to the plate and speaks up. This week, Dr. Jon Shanser, a well known Olympic Valley resident, became another one of those heroes that have the fortitude to speak up for what is right. His guest column, titled "Inconvenient Truths or Convenient Fiction?" is spot on in "setting the record straight."
Continuing to confuse fact with opinion only serves to further divide our community and is certainly not the type of behavior expected from the leader of an organization that holds the keys to development in a community and ski area so rich in character and tradition. – Dr. Jon Shanser, Olympic Valley
We encourage you to read the complete text of Shanser's column at the Tahoe Daily Tribune. Thanks to Dr. Shanser for joining the ranks of Olympic Valley heroes that have stood up for a community, rather than selling out to a corporation.