A Question Of Leadership
|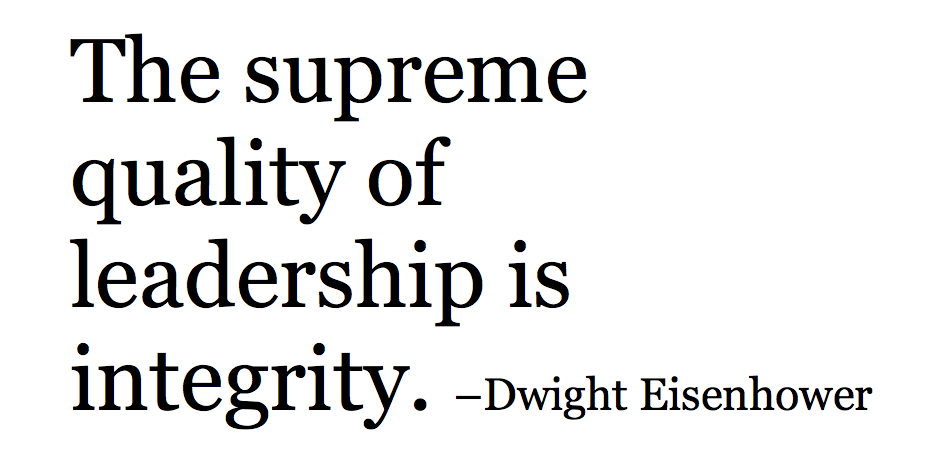 In a perfect world, every day would be a powder day. In a perfect world, ski resorts would simply be just that, places to go skiing and riding. In a perfect world, ski blog writers would only have to write articles that highlight the deep powder, amazing terrain parks and a never ending stream of upcoming weather systems at our area. We don't live in that perfect world. Therefore, today we will tackle the subject of leadership.
I have always been pretty passionate about the subject of leadership. Many of you know that when I am not skiing, I work as a public school teacher. When asked what I teach, I generally answer that I am "a leadership teacher that happens to teach a bit of science and math". My second job, as a facilitator for Project Discovery, gives me the opportunity to work with everything from Cub Scouts to sports teams to major corporations in the areas of team building, community building and leadership. That is why I find myself spending more and more time questioning the leadership at KSL Capital and Squaw Valley Ski Holdings.
Last week, I wrote a post that highlighted John Kircher, whom has done a fantastic job as a leader in running the Crystal Mountain Resort. Unbeknownst to me, Jennifer Gurecki was finalizing her guest column on leadership for the Tahoe Daily Tribune. Her article, titled "Squaw Valley – A New Direction For Leadership" calls for a change in the style of leadership in Squaw Valley; it was published yesterday.
Do we want to live in communities where leaders are appointed by corporations and not elected by residents? Can high-powered executives effectively balance the triple bottom line of people, profit and planet, or will the interest of shareholders and boards of directors trump community needs? – Jennifer Gurecki
Gurecki does a fantastic job of keeping her article non-political. Although she mentions the incorporation effort, she neither supports it or undermines it. She simply offers a contrasting view of how leaders derive their power, and how things could be different. We totally agree. While some people have suggested that there are not enough leaders within the local population to make good decisions, we know that is not the case.
"The function of leadership is to produce more leaders, not more followers." – Ralph Nader
Gurecki finishes her piece by suggesting that whomever is leading at Squaw Valley, whether it be Andy Wirth or some successor, must work with community leaders, rather than attempt to lead through a traditional power structure. We could't agree more. We really hope you take the time to fully read Ms Gurecki's column.
Regardless of whether or not Incorporate Olympic Valley succeeds in its attempt to become an incorporated town, KSL (or the next corporate entity that purchases Squaw Valley) will have to engage at a high level with the leaders who have spawned the movement. They will continue to remain outspoken and engaged, driven by their acumen and passion, both of which will supersede any traditional power that confronts them. – Jennifer Gurecki
As if on cue, Andy Wirth, CEO of Squaw Valley Ski Holdings, also wrote a guest column for the Tahoe Daily Tribune this week, titled "Incorporating Olympic Valley: An Incredibly Risky Notion." It was no different than any other article penned by Wirth. You're welcome to read the column and form your own opinions about the incorporation of Olympic Valley. We just want to highlight a few areas:
• He makes personal attacks on people within the Olympic Valley community
• He asks us to trust his analysis of the fiscal viability of the incorporated town of Olympic Valley, rather than wait for the professional analysis done by the firm hired by Placer County LAFCO
• He continues to use fear to get people to take his side. I find it distasteful that he is using the King Fire disaster for political gain.
• He shifts blame to other people. He suggests that the selection of a new auditor for the comprehensive fiscal analysis was somehow caused by IOV, when the reality is that it was SVSH that called Citygate's contract with LAFCO into question.
• He makes false statements about members of the IOV Board
Whether you care or not about the incorporation of Olympic Valley, the question is if this is the type of leadership that we want to see at Alpine Meadows and Squaw Valley? Do the leaders at KSL Capital know how the community is feeling about SVSH? We hope to see a change happen soon, where whomever owns Alpine Meadows and Squaw Valley chooses to work with the community, rather than dominate them through coercion and force.
I am not a perfect leader either. We are all a work in progress. It was not a member of the Incorporate Olympic Valley Board that stated they "promised to bring KSL to its knees." That was most definitely me, as the owner of UnofficialAlpine.com. In context, that statement was made not as being the reason for the incorporation of Olympic Valley, and not as a promise, but as a desire to get KSL out of Alpine Meadows. If Mr. Wirth had been at the IOV meeting to work with the community, he would already have known that. I already made that correction a couple of months ago. A good leader would stop spreading that misinformation.
Think snow and #FreeAlpine.