Weather Links
While NOAA generally does a god job of telling us what will happen in the short term, the long term forecasts are a bit trickier. There's at least a half dozen semi-pro forecasters that are focused on snow for skiers and snowboarders. Here's the links to four good weather resources: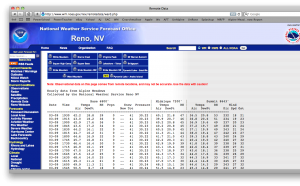 There's weather sensors all over the Sierras. The Ward Mountain sensors give up to date information on temperatures and winds and snow depths at Alpine Meadows. Remote data is not 100% reliable for wind speeds or new snow during storm events.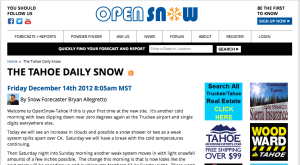 OpenSnow.com
(formerly TahoeWeatherDiscussion.com)
Bryan Allegretto is the official weather forecaster for nearly every local resort. Resort reports may be more limited than BA's full report at his own website. BA updates more frequently than other bloggers, especially during storm cycles.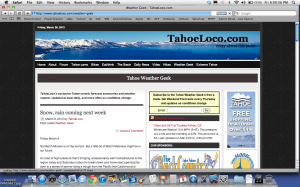 The Weather Geek at TahoeLoco.com
The Weather Geek often adds some nice contrasting views to the Tahoe weather world. We've been linking to the Weather Geek longer than any other weather blog.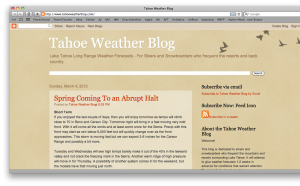 Paul at the Tahoe Weather Blog is a relative newcomer to the weather blogger crowd. Although Paul's focus tends to be more on Mount Rose and the Carson Range, he's been nailing some tricky forecasting this winter.