The SquAlpine Gondola Connection: A Community Divided
|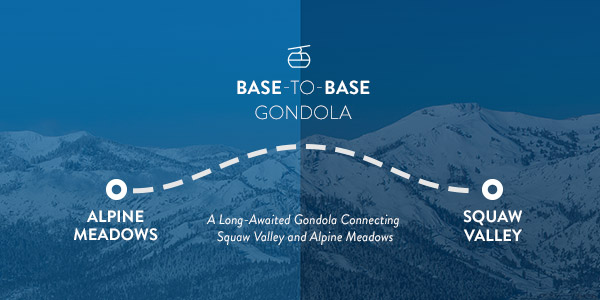 We thought the news might be coming sometime soon. After a dismal series of snow seasons, Squaw Valley Ski Holdings needed to do something to maintain interest in the selling of ski passes, and more importantly, to sell the dream of the proposed new village at Squaw Valley. As our last two surveys have shown, the community is really split about whether the connection between Alpine Meadows and Squaw Valley would be a great thing or a terrible thing.
We're definitely late to the party in reporting the story. While I was at work today, it seemed like I received 47 emails and texts alerting me to the announcement, asking why I hadn't posted a piece yet, or asking for my commentary. The story has been already widely reported by both the ski media and the mainstream media too. So we'll be totally transparent in telling you that this piece is nothing more than an editorial, as it is far too late to call it "news."
A quick summary of the details
• The base area to base area connection would likely be served by a gondola, but that is subject to change as the planning process continues. Reviewing the maps and video, the base at Squaw Valley would be in the vicinity of the KT-22 lift, while the base at Alpine Meadows would terminate at the current location of the small magic carpet lift.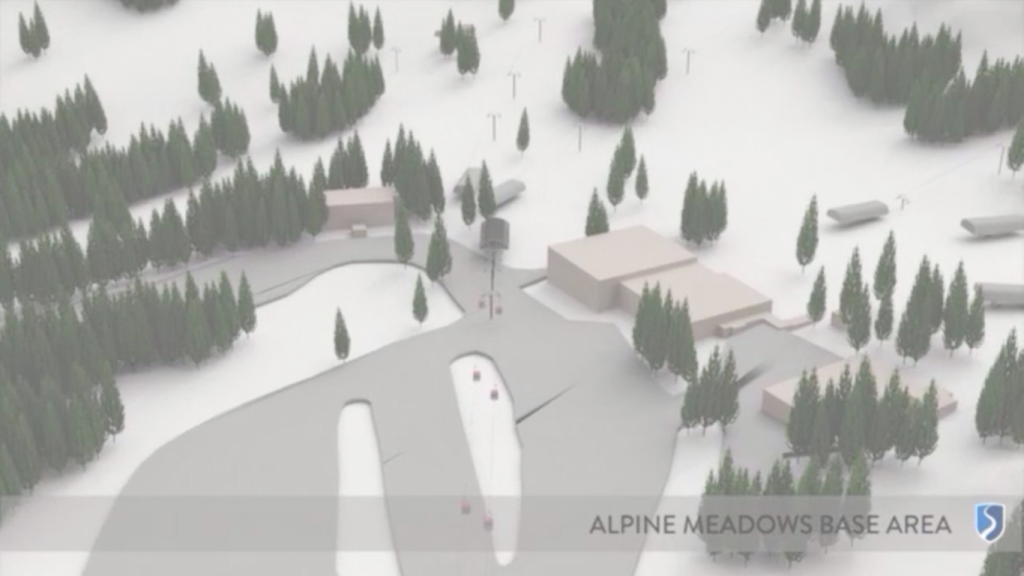 • Plan's call for two angled mid-stations along the ridgeline above White Wolf. One would be located near the Saddle of KT-22, on property that is owned by Troy Caldwell, unless that ownership has changed as a part of this deal. The second mid-station would be located near the top of the Buttress or Bernies Bowl on USFS land.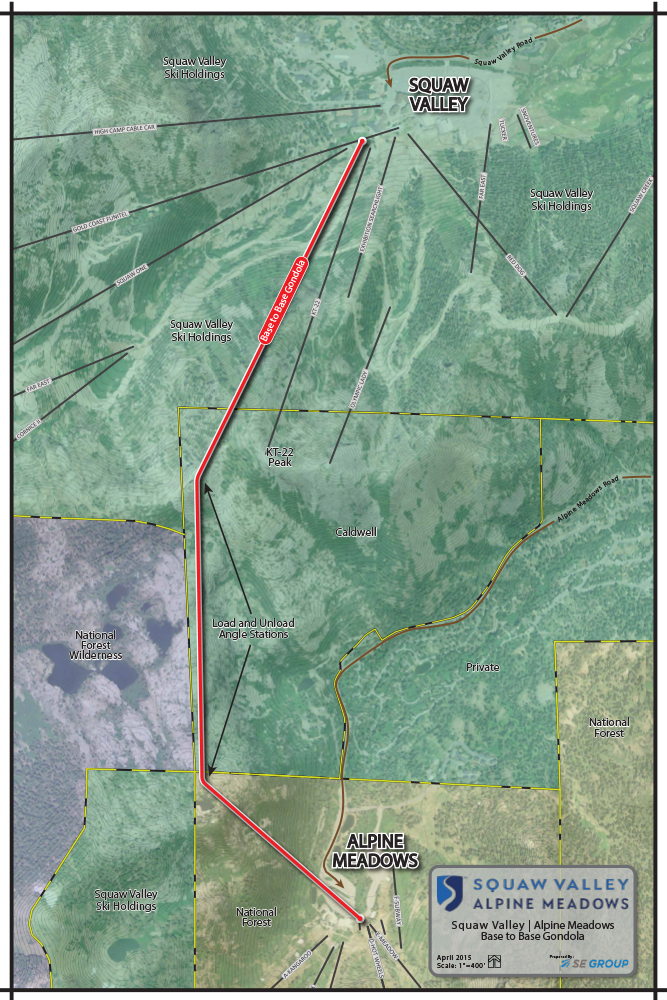 • Although an initial reading of the informational site at SkiAlpine.com suggests that loading and unloading will be done only at the base stations, further reading reveals this is not true. Subsequent interviews with Andy Wirth have revealed that the three sections of the gondola will be set up to operate independently. That means there will be an ability to load or unload guests at the angled mid-stations. From either side, that gives skiers and riders nearly direct lift served access to terrain near The Buttress and Bernie's Bowl, eliminating some of Alpine's best hike to terrain. It's that sort of hike to terrain that defines Alpine Meadows, not our easy blue groomers.
• No new terrain will become available as a result of the connection, meaning that skiers and riders will not have access to any of the White Wolf terrain. The addition of the gondola appears to just be a matter of convenience that will allow skiers and riders to move more easily between mountains. It will also allow more non-skiers access to the Village at Squaw Valley from Alpine Meadows. You and your grandma will be able to share a GNAR burger at the Rocker for lunch.
• In a Powder magazine interview with Andy Wirth today, he revealed that by Squaw Valley lift access records show 20 to 25 percent of customers ski both mountains on the same day. He claims even he was surprised by the figure. Our survey results show that far fewer people are actually riding both mountains in the same day. We would be willing to bet that a very substantial portion of those people using both mountains are the large numbers of teams that move back and forth between mountains to alleviate crowding at Squaw.
• Today's announcement is only the first step in a very long process. It simply means that Troy Caldwell has finally figured out how to finance his dreams for White Wolf, and not much more. There's a long way to go in the process: Squaw has to actually complete a plan, and has contracted ski industry heavyweight, the SE Group to complete it; plans must be submitted for approval to both Placer County and the USFS; the final construction plans must be completed…all before anyone can think about starting anything. If things don't move quickly enough, a newly formed town would also become a part of the approval process. We expect that Squaw's efforts to kill off the incorporation will be redoubled. They have already spent just about a half million dollars on stopping the incorporation.
• Andy Wirth knows that the proposed gondola will be a battle. The informational site already suggests that the project can only happen with the support of the people. We can already guess that people will be encouraged to let Placer County and USFS know how badly they want to see the gondola in place. It's also a sure bet that the gondola connection will be used as a carrot to generate support for the proposed village project, and to reject the incorporation proposal in Olympic Valley. Can Mr. Wirth and SVSH do any better at dividing the community?
• In watching the video presentation, there is no lack of Olympic imagery. It suggests that ultimately, the goal is to bring the Olympics back to SquAlpine and the Tahoe region, which would be the death of Tahoe as we know and love it. But it's the only thing that would make the over expansion of the village at Squaw viable finically, at least in short term sales.
We're not the only one that are not jumping on the cheerleading bandwagon with this story today. My Facebook feed was full of RIP Alpine Meadows imagery today. We also ran across a great post that questions the reality of the gondola effort over at Death Of the Pressbox.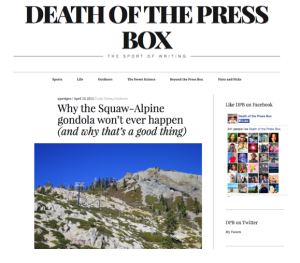 Ultimately, Squaw Valley Ski holdings will not be creating the largest ski area in North America by any measure. With the impending connection between the Canyons and Park City Mountain Resort, which is scheduled for completion this summer, that title has been claimed by Vail Resorts. So do we really need a mega-resort in Tahoe? We don't think so. Alpine Meadows and Squaw Valley are both awesome mountains, and for a number of reasons, they draw different clientele. We hope that some day, SVSH will realize that there is far more value in operating two different mountains for two different sets of clientele.
We wish that Andy Wirth was worth his words.
As we move forward with consolidating our operations, we want you to know that what's going to remain the same is as important as what's going to change: We think the key to the success of the consolidation is our fervent commitment to maintain each resort's distinctive character. People, terrain, activities, all come together to give a resort its individual character, and that's what we're committed to retaining.

– Andy Wirth, September 2011
The funny thing is he said a similar thing today:
My next question to our community would be, "How can we best activate that intent of managing, protecting, and respecting the heritage, history, and vibe of each mountain?" – Andy Wirth
Will Mr. Wirth be true to his words this time? We hope you join us in holding Andy and Squaw Valley Ski Holdings accountable to that promise. We would love to hear your comments.