Squaw Valley Village: What's Next?
|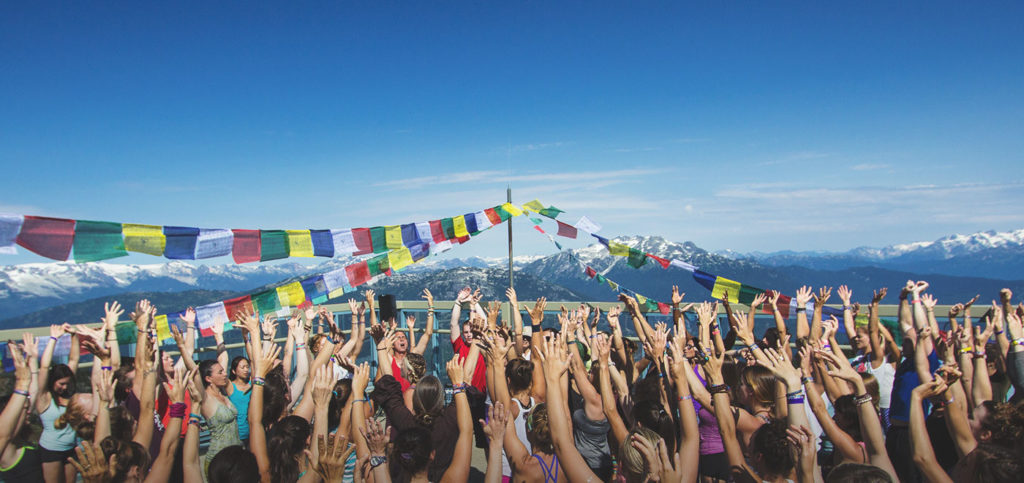 Like others around North Lake Tahoe we've noted a 5000% increase in the appearance of yoga pants around the area, and that can only mean one thing. Wanderlust is back in town. Personally yoga is not my thing, as I am easily distracted by squirrels. But Wanderlust does represent something that Squaw Valley does right. It fills the village at a time of year where it might otherwise be empty. At the same time, a lot of those visitors also choose to get out and enjoy the real Lake Tahoe. As the yoga and music festival is spread over several days, there is no peak traffic crunch that paralyzes the area. It's really a win-win for everyone.
We wish everything at Squaw Valley worked that way. We know it doesn't. Although it's been a bit quiet over the last couple of months, the proposed Village at Squaw Valley project is still looming. It's one of several proposals for North lake Tahoe that would have far reaching impacts, forever. The Environmental Impact Report for the project identified more than 20 "significant and unavoidable" impacts from the proposal. Public commentary on the project runs about 200 to 1, with the majority of people looking for major reductions or a complete rejection of the plan. Those that have publicly expressed support for the plan include real estate developers and architects that stand to profit from the proposal.
For those that care about the future of Squaw Valley and the North Lake Tahoe region, there's a few new updates to note:
• The Placer County Planning Commission will be meeting on August 11 to consider approval of the Village At Squaw Valley Specific Plan. A specific location and time for the meeting has not been determined, but it will be in eastern Placer County. We hope to see the same sort of turnouts that were recently seen for meetings regarding the Martis West project, which was denied at the Commission's last meeting.
• Chevis Hosea is no longer serving as Squaw Valley's Vice President of Development. According to HospitalityNet, Hosea has moved on to oversee a Miraval Resort spa project. Miraval Resorts is another subsidiary of KSL Capital. As VP of Development, it was always Hosea that reminded anyone willing to listen that nothing less than the fully proposed development would "pencil out" for Squaw Valley. Who will be saying that now?
• The marketing depart at Squaw Valley has duly noted that there is support for some redevelopment of the current village. The Facebook page for the Village at Squaw Valley has now been changed to the "Village at Squaw Valley Redevelopment". We're guessing that we will be seeing a lot more of that term thrown about. While it's true that a portion of the proposal would redevelop parking lots, don't be fooled. Unless something radical is presented at the August meeting of the Planning Commission, the project still includes plans for new construction in Shirley Canyon and on the east parcel on Squaw Valley road; they also still include plans for a 90,000 square foot indoor aquatic park and recreation center; and countless other super-sizing that leads to all of those significant and unavoidable impacts.
• A new webpage, SquawTomorrow, appeared this month touting the benefits of the Village project. There's not much to it other than begging people to support the project. We're pretty certain that the costs to the North Lake Tahoe community will greater than the benefits they suggest. Besides the jobs the project could create, there is little guarantee that profits from the project will stay in Tahoe. Nor is there any promise that taxes generated from the project will stay in Tahoe to benefit this area. We would love to see Squaw Valley support the restoration of Squaw Creek and other recreational improvements without using it as a bartering chip to gain public support for the project.
We hope to see many people at the Planning Commission meeting on August 11th. We will post an update letting you know the exact time and location for the meeting.