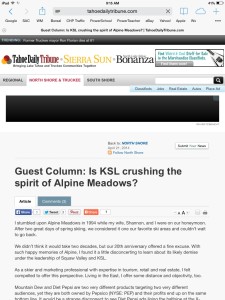 As I sit here on vacation overlooking the Pacific Ocean, the thought of one inch of new snow at Squaw and skiing today is far from my mind. But this morning, a friend sent me a link to the latest guest column at the Tahoe Daily Tribune. It was enough to make me get out my iPad for a quick post. Well done Paul.
Here's a great sample from the letter:
As a skier and marketing professional with expertise in tourism, retail and real estate, I felt compelled to offer this perspective. Living in the East, I offer some distance and objectivity, too.

Mountain Dew and Diet Pepsi are two very different products targeting two very different audiences, yet they are both owned by Pepsico (NYSE: PEP) and their profits end up on the same bottom line. It would be a strange disconnect to see Diet Pepsi ads lining the halfpipe at the X-Games and just as disconcerting to see Shaun White pushing Mountain Dew on Lifetime TV.

It doesn't take much to understand that Pepsico can make more money building two, different brands that appeal to different types of people rather than push a single brand onto everyone. Selling both through the same distribution network behind the scenes creates the efficiencies that control costs. This branding approach has helped Pepsico record impressive results year after year.