Hello friends,
There are still patches of snow in the higher elevations for those of you who just cannot get enough turns in during the regular season.  I have turned my attention to the summer activities.  Our weather has been variable these past few weeks making it difficult to plan very far in advance, however the hiking and biking trails are in great condition for this early in the season.  Rain, wind, and cool weather have been somewhat of an annoyance at times, but in general spring is in full bloom.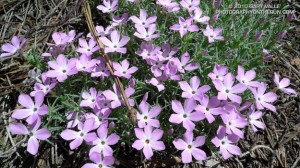 Flowers are popping out at elevations below 7500 feet, Aspen Trees have new leaves, and water is flowing over granite slabs.  We have walked the following trails (or parts of them) in the past couple of weeks.  All were mostly free of snow below 7500 sq.ft.. We hiked Five Lakes, Shirley Lake, Scott Peak, Sagehen, and parts of the Rim Trail leading north and south from Tahoe City.  Mosquitoes are coming out at Page Meadows in force.
Mountain biking has been excellent.  Recent rains have the trails in beautiful condition.  We have ridden out from the Nordic Center in Tahoe City making several different loops.  The Western States Trail up to Painted Rock is open and free of snow as is the section of the Rim Trail from Tahoe City to Painted Rock and beyond.   Trails in Truckee (Emigrant, Sawtooth, and others) are clear and in good riding condition.  The lake is still on the cool side, but kayaking and paddle boarding are going on when conditions warrant (not too windy and/or choppy).   Today the winds are howling.
That is about all from Tahoe at the moment. Enjoy your day.
Andy Wertheim