The PineSquawWoodWoodHeavStar Pass
|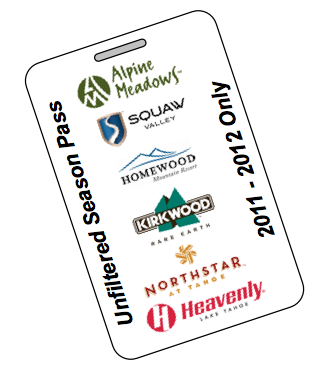 There has not been much discussion about this anywhere yet. But we've been asking questions and testing theories. There are some very lucky people on this planet. Normally skiing 6 different resorts in Tahoe requires multiple pass purchases or an investment in the California Gold pass at $2450. But some forward thinking Alpine Meadows skiers and boarders bought an Unfiltered Pass through Alpine Meadows for around $800 before September 27. Due to the magic of previous mergers, potential mergers and new mergers, those passholders now have access to 6 mountains, with no limitations.
It all started with JMA, who owned both Alpine Meadows and Homewood. There is some evidence than an acquisition of Kirkwood was discussed, resulting in shared passes between Alpine Meadows and Kirkwood. And as we all know, KSL purchased Alpine Meadows in September, giving us the PineSquawWoodWood pass.
Last month, Vail Resorts successfully bought Kirkwood. Since Vail Resorts also owns Northstar and Heavenly, reciprocal pass privileges were immediately announced. And that's something that went quietly unannounced around Alpine Meadows. Yes, apparently your Kirkwood pass now allows you to access both Northstar and Heavenly.
The process is not as simple as it seems. You can't just roll into Northstar and jump on the gondola with your Alpine Unfiltered pass. Here's the details:
• You already know your pass works at Alpine Meadows and Squaw Valley
• You can pick up your pass at Homewood by presenting your Alpine Unfiltered pass.
• You can pick up your pass at Kirkwood by presenting your Alpine Unfiltered pass.
• Access Northstar or Heavenly by presenting your Kirkwood pass at that mountain's special tickets office
Note that all of this goodness is offered only for this season. When everyone purchases new passes for '12-13, the mega-corps that own our mountains will likely no longer feel obligated to honor agreements. We actually hope that this deal never become available again because it would likely mean that someone has monopolized the Tahoe resort market.
Nonetheless, we hope some people are able to take full advantage of the situation while you can, before resorts start closing. It sounds like a good project for a week in Tahoe, or a daring weekend adventure. If you do it, send us the pictures and the story!