Retro Gear Review: 2004-ish Atomic Beta Ride R:ex
|
One thing you'll notice this season is that there's plenty of people jumping on the "junk ski" trend so they can more fully enjoy the mountain in low tide conditions. Looking around Locker Room 3 this weekend, you see plenty of old carving skis that have been retrieved from the basement or purchased at a local consignment shop, some still having the price tags affixed. I already reported that we made a stop at the Truckee Sports Exchange this week to search for a ski built for less than perfect ski conditions, available for purchase at price that allows for the natural destructive process to continue without a huge financial investment.
I have always been a "one ski quiver" guy. Whenever people ask me about my regular skis, at 117 mm underfoot, on a non-powder day – my usual response is "once you go big, you never go back." But skiing a few days of firm groomers, moguls and "adventure lines" convinced me that maybe there was a life before fat skis. The last ski I owned less than 100mm underfoot was the Line 1260, back in about 2002. So I went off and talked to Jacque and Rob at the Sports Exchange to get some ideas.
The Sports Exchange has a large selection of consignment skis and boards available. I quickly picked out a few candidates, but ultimately settled on the Atomics due to the price, and that they included a classic plate mounted Rossi Pivot binding. So just about 10 years late, I bought my first carving ski – the 2004-ish Atomic Beta Ride R:ex.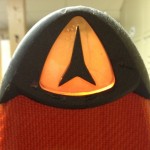 It turns out that this was quite the ski at it's release. It combined some lightweight carbon ridges and an aluminized woven top sheet that gives the ski a ton of rigidity without adding much weight. Even with the heavier plated binding, they feel pretty light and nimble underfoot. They are also rigid enough to handle firm snow, ice and cruddy snow without releasing the edge. The geometry definitely says carver: 114/84/106.
So how do they ski? Well, they completely rally on the groomers, holding an edge very nicely whether you're in the crud or on the ice. Once you've transitioned to the current off-piste mix of firm snow, chalk and rocks and trees, they continue to maintain your line in a way that modern wide rockered skis just can't do. I find it hilarious that the 2003-2004 literature refers to the R:ex as a fat powder ski. The stiffness of the R:ex would lead to trouble in the moguls, but I chose a shorter length, at 177cm, which is easy to throw around in the moguls. The stability of the ski makes the shorter length of the ski not much of an issue.
Here's what Skiing Mag said about them in their 2004 test:
 "The R:EX has enough power and stability to hammer through crud, windblown slabs, sun crust, and whatever else you can drum up. Just don't ask it to float sideways down the fall line – this ski demands to bedriven. The R:EX's class-leading stability and grip will get you into and out of any dicey situation."
So a cheap pair of carver's has brought a lot of fun back into skiing in less than perfect conditions over the holidays. It's probably time for me to admit that a guy needs at least two pairs of skis in his locker or cartop box. Don't worry Josh Bennett, there's still a pair of Slant Skis in my future, as soon as there is some snow on the ground that will prevent them from turning into "rock skis" on day 1.
What is your preferred thrasher ski for the current conditions? We would love to hear about it!