All I Want For Christmas Is Alpine Meadows
|
We're a couple of years into this merger of Alpine Meadows and Squaw Valley, and there's a lot of varied opinions out there about whether or not that's a good thing or a bad thing. Regular readers know that we are not in the camp of people that are completely enamored with the way things have transpired. A number of people must have seen our new stickers proclaiming "Free Alpine" out in the wild, as our search logs show that a lot of people have been looking for one of their own.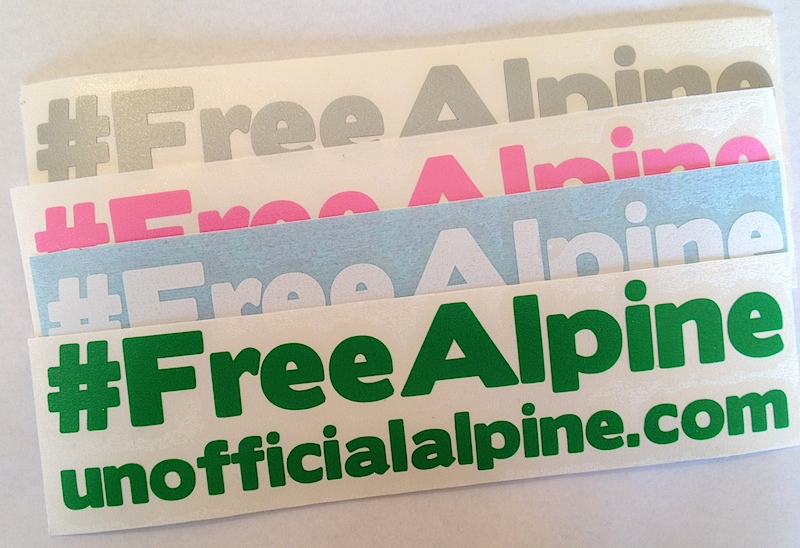 So what does "Free Alpine" really mean? Read on and we have some ideas.
When the merger was announced, back in 2011, it was reported that it was important that each of the resorts maintain its own identity. Here's what Andy Wirth told the Huffington Post in September of 2011:
As we move forward with consolidating our operations, we want you to know that what's going to remain the same is as important as what's going to change: We think the key to the success of the consolidation is our fervent commitment to maintain each resort's distinctive character. People, terrain, activities, all come together to give a resort its individual character, and that's what we're committed to retaining.

– Andy Wirth
That was some smart thinking. Alpine Meadows and Squaw Valley are both amazing mountains. They offer some of Tahoe's best terrain, best snow, and a ton of variety. Each has a passionate community of skiers and boarders that think the most of "their mountain." It's probably also true that each mountain does contain "the soul of skiing", except that the definition of soul is completely different at each mountain.
There's a reason people have been driving 3 miles further to Alpine Meadows for more than 50 years. We purposefully drive past Squaw Valley, past the beckoning Olympic flame and rings. We choose to tackle Alpine Meadows road, even though it is steep, frequently icy and subject to morning closures for avi control. We've been drawn to something that is different. For some of us it's the mountain; for some it's that Alpine Meadows has historically been more affordable for families; for some it's the people and persona that make Alpine Meadows. Regardless of the reasons, there's generations of families that have chosen the Alpine Meadows experience instead of the Squaw Valley experience.
We know that there are people that love both mountains and rejoice in the merger. The fact is, the ability to ski both mountains has always been there. There was a time when season passes were crazy expensive, but day tickets were relatively cheap. In those days, it was easy to choose to go to the "other side" for a day or two. With our current system of crazy cheap season passes and crazy expensive day passes, we're a bit more locked into one mountain.
One common thing I hear around the mountain is that "it's a done deal" and that people just need to accept change. Our country would certainly be a different place if we all lived by this mantra. I don't believe that it is too late for SVSH to remember all of those bold statements made back in September of 2011 about keeping a separate identity for each mountain.
We honestly don't care who owns the mountain. So the concept of "Free Alpine" doesn't really mean that we can't be a part of Squaw Valley Ski Holdings. it just means there's some things that could happen to keep Alpine Meadows as  Alpine Meadows, and not the "backside of Squaw".
• Pass prices are down but day ticket prices are way up for Alpine Meadows. Because we have access to the huge number of lifts at Squaw Valley, we have to pay for that, whether we want to use them or not. We have created a place where entire families can no longer afford to ski or ride at Alpine Meadows, unless they commit to a pass. We no longer can invite a friend to come over for a day from another resort (yeah, those 2 family and friends tickets recently offered…that will go real far!). Our extended families that come for the holidays? No, they can't afford to go to Alpine Meadows for a day or two either.  Alpine Meadows has always been the place to offer a relative bargain ticket compared to Squaw Valley. You could get similar terrain, without all of the bells and whistles, at an affordable price. It's time to bring back separate tickets for Alpine Meadows and Squaw Valley.
• The same holds true for season passes. It's time to re-introduce separate passes for the mountain, that offer just a limited number of days to visit the other side of the mountain. The combined season pass makes it far too easy to justify operating only one mountain at a time. There's been enough people that love sliding on snow to operate both mountains since 1961. The competition for the skier dollar between Alpine Meadows and Squaw Valley for most of the last 50 years has benefited us as the consumer. The lack of competition that currently exists hurts not only us, but the future of winter sports.
• If we want mountains that have an individual identity, they need their own managers and staff. Alpine Meadows has lost a lot of key mid-managers, and more and more employees report to someone in an office at Squaw Valley. Decisions are made by people that have no idea what has made Alpine Meadows a different experience than Squaw Valley. Surely a lot of this "streamlining" makes sense to the bean counters in accounting – but it destroys the individuality of each mountain.
• We are pricing people out of the sport at SquAlpine. Not only have prices for day tickets increased dramatically, the cost of spending a day at the resort has grown faster than the rate that people's paychecks are growing. Over the last two years, prices for ski teams, lessons and a warm lunch are getting beyond what many of us can afford. Time and time again, we hear statements made from SVSH and KSL that we're not the market they are trying to serve. Clearly there are some people out there that have that much money to spend, but it's not us: the locals, the day trippers and regional vacationers that have called Alpine Meadows home since 1961.
We hope that you join the movement to "Free Alpine". Let us know if you need a sticker or two. If you noticed the hash tag, starting tagging your pictures that show the real soul of Alpine Meadows and we'll start posting some of them. We're hoping to find a sponsor to pay for some prizes. #freealpine