FOSV: What Does The Future Hold For Squaw Valley?
|
The Friends Of Squaw Valley has been shifting into a higher gear this summer, following on the heels of some crafty marketing by our KSL overlords. The more you listen to the KSL doublespeak, the more you realize that there's a branch of KSL that does not really care about the mountain, that big blue lake, or the locals and daytrippers that enjoy Squaw Valley for what it is. Please note that we're really talking about KSL, the real estate developers, and not SVSH or Squaw Valley Ski Holdings, the partnership that operate the Squalpine mountain operations. It seems like the people that run mountain operations at Squaw and Alpine truly do have their hearts  in at least close-to the right place.
It's no wonder there are at least three different groups working to prevent Squaw Valley from becoming just another mountain mega-village resort complex. Ultimately, three groups working together may be able to make a difference. For locals that are not residents of Olympic Valley, it makes sense to join the movement at Friends Of Squaw Valley.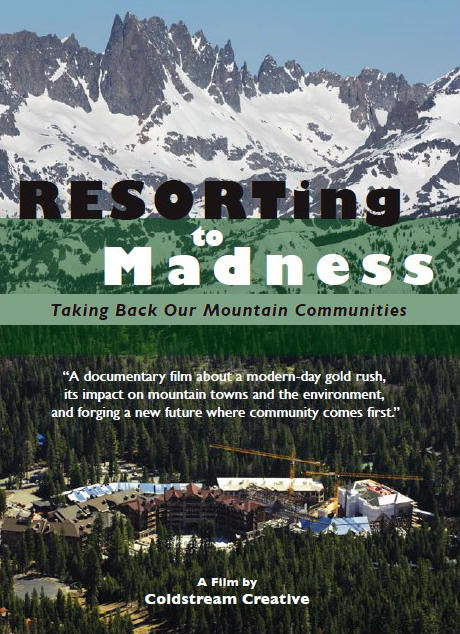 Friends of Squaw Valley will be hosting a showing of Hunter Sykes' 2007 movie "Resorting To Madness: Taking Back Our Mountain Communities."  The film will be followed by a question and answer period with Mr. Sykes.
The film addresses the impacts of the modern ski resort industry on mountain communities and environments. Included is footage and interviews from dozens of ski areas, experts, and concerned community members throughout North America. It reveals the negative side of the otherwise glamorous sport and offers suggestions to protect and maintain mountains and mountain communities.
The event will be held at the Resort at Squaw Creek, on Saturday, September 14, starting at 6 pm and will include an update on the KSL proposed development. Yes, we know, it is ironic that FOSV is holding the event at Resort At Squaw Creek, which itself was the focus of similar protest movements many years ago. Unfortunately, every other large venue in the valley is owned or controlled by KSL…and therein lies the problem.
The event is free, but donations are appreciated. There will also be a raffle with some excellent prizes available.
Unfortunately, the CRJ movie also premiers at Squaw on the same evening. It bears mentioning that CR Johnson is one of my personal heroes. I even sport a tattoo with a CR quote on my leg. It would be a tough choice to make, but FOSV really needs your help now. Trust me, you will be able to buy CRJ The Movie soon and watch it daily. You can also donate to High Fives to support the CRJ Healing Center here. Yes, you can support both great organizations!