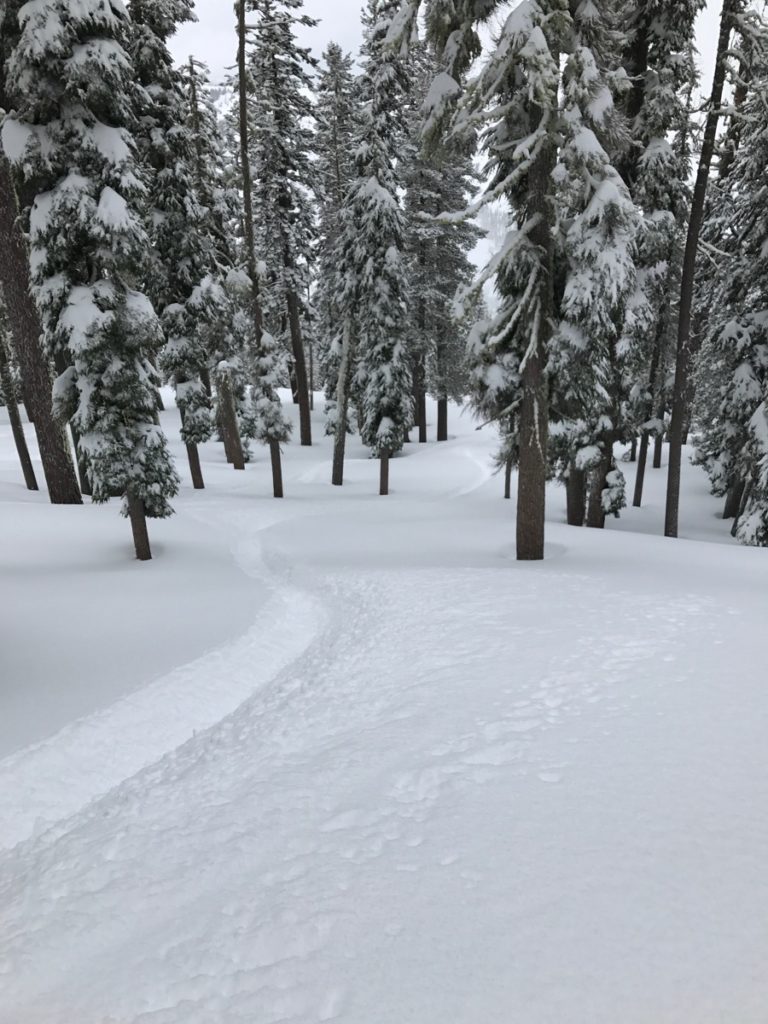 I'm not the guy to throw that term around loosely. I know it seems like another ski blog uses that term at least once a week, but today was really "all-time" at Alpine Meadows. You ask, "How could it be an "all-time" day when it was only Roundhouse with a delayed opening?" Well, let us review the facts:
• Roundhouse and other lower mountain lifts opened right on schedule at 9 AM.
• When Roundhouse opened this morning, 12 people were standing in line. Yes, we said 12.
• Scott Chair, which was not even scheduled, opened at 1:20.
• When the Scott Chair opened, less that 40 people were in line. I counted. It was the only line I stood in all day. After that you basically could ski right through the RFID gate and wait just a few chairs.
The snow was definitely hero snow. Obviously ridiculous amounts of snow has fallen during the last storm cycle. The mountain is very filled in. You have to actively look for rocks and small tree tops. Most everything is now a blank wide open palette. Yesterday's snow was totally base builder cement. The new light snow ranged from boot tops to knees, depending on location. That snow was just right. Another 8-10 inches fell over the course of the day, based on what was on my truck at 4:15.
Much of today's traffic focused their early efforts on Sympathy Face, The Face and Waterfall. I did four laps through Yellow and saw a few other tracks but never once saw another skier or rider. I did entire runs through Gentian Gully in the afternoon without seeing another person between Broccoli Tree and the Subway Lift.
It's going to be one of those days that many of us will continue to dream about, probably for years to come. Whatever mixture of elements in the universe came together to create this perfect day – I am all about that. Even though the trip home took 90 minutes in traffic due to spin outs and stuck vehicles on Highway 89, I still arrived home with a big perma-grin.
The amount of work required to get the mountain open after a four day closure was just amazing. Patrollers, lifties, mountain hosts, managers and hired extra help were digging out everywhere. The upper lift terminals were just buried, as were the Sun Deck and Chalet. Patrollers spent hours resetting ribbons and digging out and raising tower pads. A small group of people really appreciated everyones efforts to get as much mountain as possible open today! Many more people will appreciate your efforts over the next few days.
For those that are worried that we may have spoiled some secret and that we could have enjoyed another quiet day tomorrow…that won't be happening. Truckee was jammed this evening and the early arrivals are definitely here already. Squaw will have major amounts of their mountain open tomorrow and most other resorts will be also getting back into gear. Curiously, the status of Alpine Meadows is completely unknown for tomorrow morning. I think I will find my "I believe" button, and just show up and hope for the best again.