At Least The Marketing Department Can Laugh: New SquAlpine App Available
|
We'll admit it. We have done a bit, or maybe a lot, of grumbling about the mobile app for SquAlpine over the last year. We weren't the only people feeling that way either. It went far beyond complaints posted here, Facebook and Twitter – comments posted at the Apple App Store were uncomplimentary at best. What's awesome is that the Squaw Valley | Alpine Meadows marketing team paid attention to the feedback, had some good laughs, and then dealt with most of the issues. In case you haven't seen it, here's the release video:
Right on cue, later that day, the update appeared on my iPhone, ready to install. So far, from the first looks, the app is vastly improved. In general, it takes far fewer clicks to get anywhere, the interface is far more intuitive and the look is just cleaner. The app does just about everything: lift status and wait times, trail status, weather, maps, resort information, access to webcams and more. You can also track your progress through the day and track your friends on the mountain. There's also access to the store to reload lift tickets via the app. I am pretty sure the old app also did much of the same…but since I downloaded the new one, well, I can't look at the old one anymore to make real comparisons. That said, everything looks easier.
Navigation Simplicity
On the old version of the app, many things were just not that easy to find. As several reviewers pointed out, it took several clicks to get anywhere. It was even worse if you were looking for Alpine Meadows specific information. The new app makes it much easier, with a clean interface.
We noted this morning that the 8.01 version of the app even removed that ugly and irritating "Purchase Lift Tickets" button that cluttered up the screen. The links on the main screen take you where you want to go easily with a minimal number of clicks. As an example, all of the main webcams, from both Squaw and Alpine, are available on one screen. For lift status, it's simple to click back and forth between the two mountains.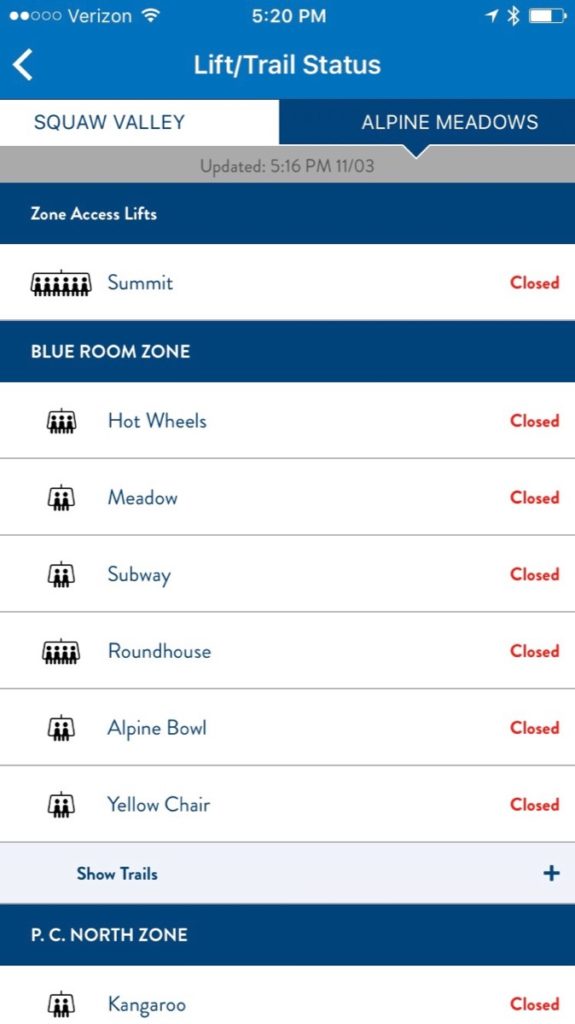 The new app will purportedly also list wait times next to those statuses as well. If that's true, it may serve to better balance crowds out around the mountain. But the counter to that is that the days of hiding out at some uncrowded lift on the mountain while the corral is full at Summit may be over. Ultimately the usefulness of this part of the app will only be as good as the system that is in place that keep it up to date. Over the last season, updates to the app were not always timely.
It's unclear how notifications will fit into the picture either. Although there is a reference to notifications in the settings, there is not any visible place where notifications might appear. Over the last season, the latest updates on wind holds and lift ops were unpredictable at best. Rarely, they would appear in the app. Sometimes they would appear in the Twitter feed from SquAlpine and sometimes from Mountain Ops feed. Sometimes it was best to just go look at the electronic board near the breezeway. The new app does keep telling me that it has detected my Apple watch, making me wonder if it just plans to direct notifications there. Many of these questions will not be answered until the season gets underway.
Tracking you and your friends on the mountain
Overall, the new system of tracking yourself and your fiends on the mountain presents us with a much cleaner interface than the old app. I immediately noticed the easy to reach screen that kept daily and seasonal totals and that immediately piqued my interest in using the system. As always there's question about the ability of our technology to keep up with battery life versus GPS use, talk time, music playing and other phone needs. There's also the much larger philosophical question about whether any of that technology should even be a part of our ski days.
One of the more interesting features of the app is the ability to easily send quick messages to your group. While using Siri to send text messages is certainly an improvement over the days of using Motorola Walkabouts, I know I have confused my ski partners with messages that end up saying things like "broccoli free in a bunch". The new app offers simple buttons to tell a group things like "Waiting for you #here". One would assume that "#here" will cause your location to show on a map, rather than knowing some of the more arcane location names around SquAlpine.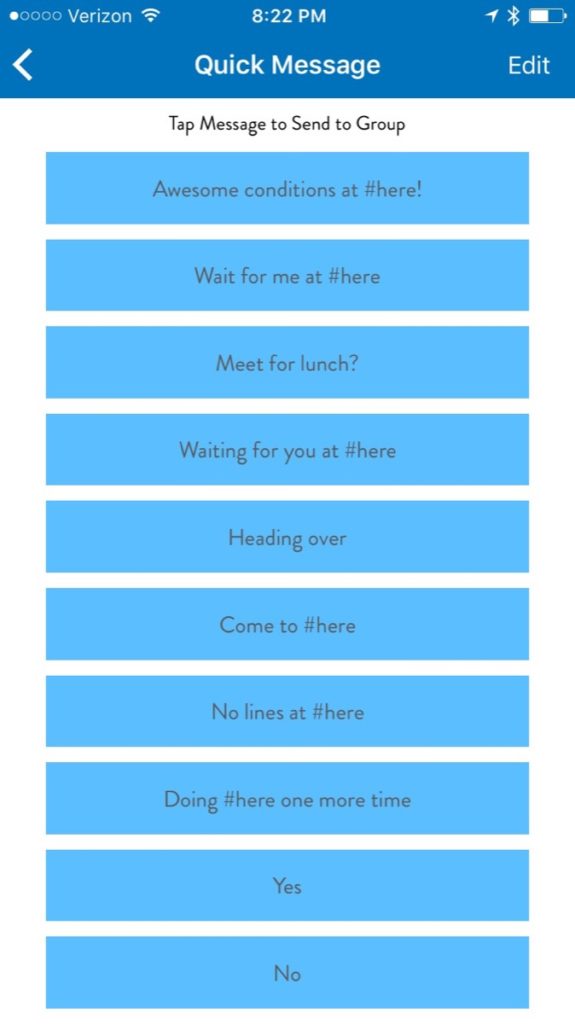 One irritation of the new app, and all similar apps, are the constant nags to give complete and unfettered access to my location to the app at all times. If only there were a setting that says that it's fine to track my location only within a certain geofenced area that includes Alpine Meadows or Squaw Valley. I'm not sure that I want anyone to always know exactly where I am at all times. When I go out to breakfast in Reno, I really don't need anyone else wondering whether I went to Big Ed's Alley Inn, or to Fantasy Girls, located across 4th Street. Just to make it clear, Big Ed's does offer a great chicken fried steak!
Shopping: Still An Unknown
The store function is not yet available on the new app, so it's tough to know how useful it will be. Gone are the simple days of walking up to the many kiosk windows at ski areas and quickly buying a day ticket.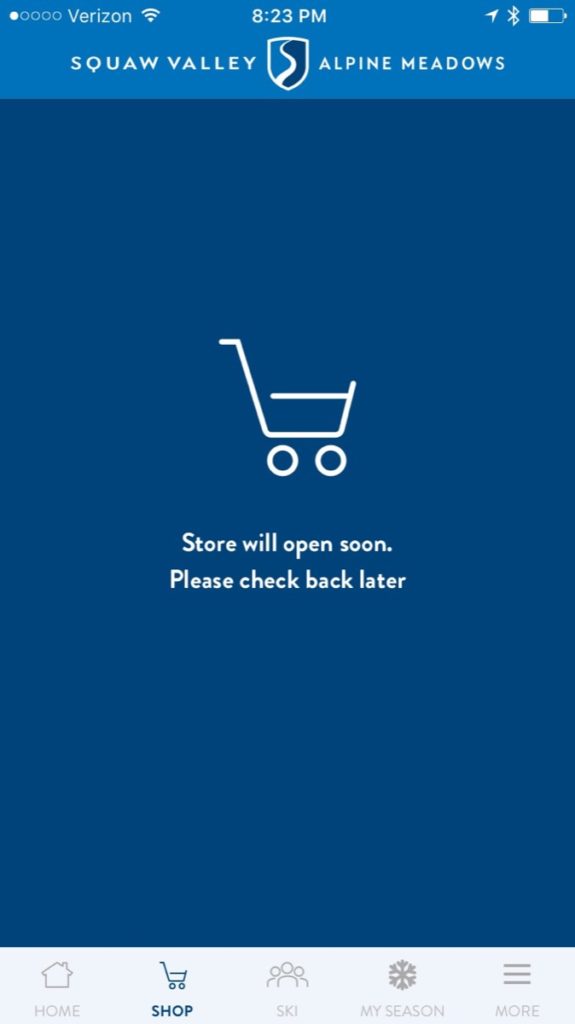 As more resorts move toward electronic ticketing systems, nobody has come up with a great system just yet. The process of buying a day ticket online has been equally frustrating at SquAlpine, Mount Rose and Boreal.
Here's the vision I would propose, assuming one already has a reloadable ticket in hand.
You should be able to simply scan a bar code or capture a number using your phone's camera (similar to how you can redeem an iTunes or Starbucks card).
Then select the number of days to add to the ticket.
Then simply use a thumbprint to pay with Apple Pay.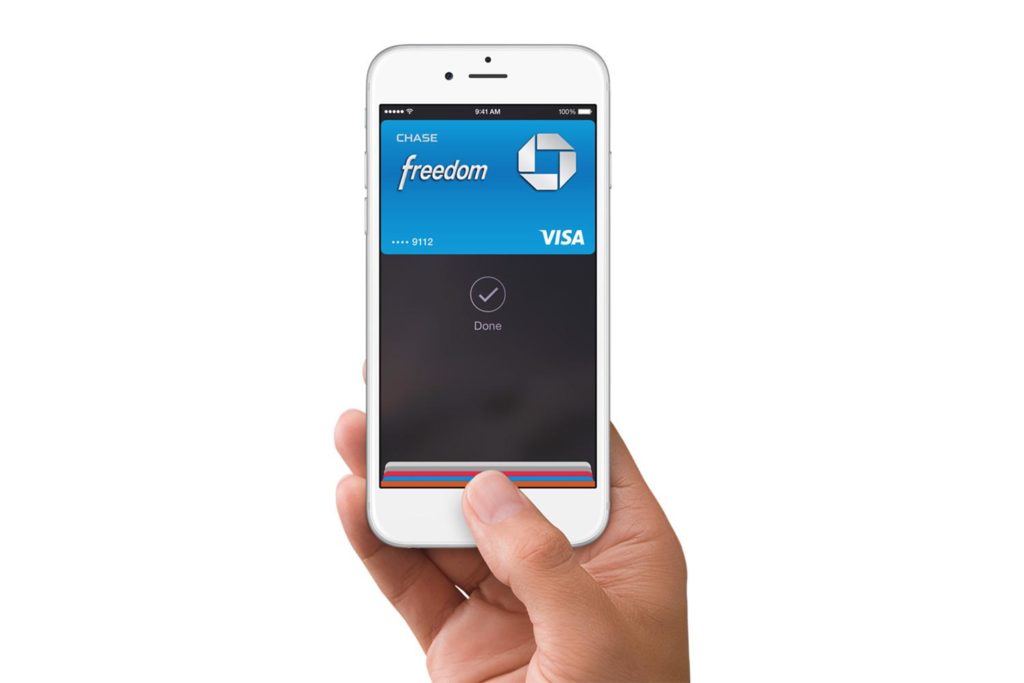 Kudos To The Marketing Department
We give kudos to the marketing department for listening to customer feedback, then actively making changes to improve the product. We hope the same level of care goes into keeping all of the information presented this season accurate and timely. We look forward to Mother Nature changing to a more winter-line pattern soon so we can do some real time testing soon…